Custom Made Pet Portraits
Pet Portrait painting or drawing made with attention to detail and lots of love. I will help you to capture and enhance the beauty and character of the subject, turning it into a memorable piece of art that you can proudly display in your home or that makes a thoughtful, one of a kind gift for someone special.
If you would like to book a pet portrait commission there is availability throughout the year but this is dependent upon how quickly  bookings fill up! This means that sometimes requests may be added to a wait list.  Take a look at the gallery images below for examples of previous works and to decide if I'm the right artist for you. Any Questions about the process- don't hesitate to get in touch below!
How To order
Ordering your custom portrait couldn't be simpler. For an informal chat to discuss your requirements  just message me at hello@rebeccafindlay.com .I will be more than happy to go through the options with you and help you decide what best suits your needs
Once confirmed, I let you know the exact price for your work. Please be aware that the prices included below are for a standard one subject and small amount of background. Any extras may take more time which will be reflected in the price. As a guide, extra subjects are £50 per subject and a full background is also priced at £50.  I will always let you know the price of any extras upfront via email so that you are fully informed before your purchase.
You will need to supply a good, clear photograph (you can send more than one) of the subject that you wish to be drawn. This can be sent to me via email. I am more than happy to help you select and advise on what would work best in order to get the best possible result for you.
Please note: I will not begin work on your custom artwork until I have contacted you first via e-mail to clarify details, price and until you are happy. I realise that it can be daunting ordering art from the internet, especially if you do not know the artist but I can assure you that your portrait will be in experienced hands! I understand just how much your pets are loved and are a part of your family and pride myself on offering a unique and personal experience where your satisfaction is at the forefront of what I do.
Price list
Artwork listed from largest to smallest. The size options here are standard size options because this makes it easy for you to choose from a variety of ready made frames in shops or online. If you require a different size option please let me know and I may be able to accommodate your request.  All materials used are of professional quality in order to obtain the best result possible. *Payments may be paid in installments to help you spread the cost*

FULL COMMISSION SERVICE : ACRYLIC PAINT (colour) on acrylic canvas textured paper- A3 ( 11.7 x 16.5" ). Professionally Framed, Mounted & ready to hang/ gift (see image below). Also includes a full-size fine art print of your pet £550.00 (currently only available in UK)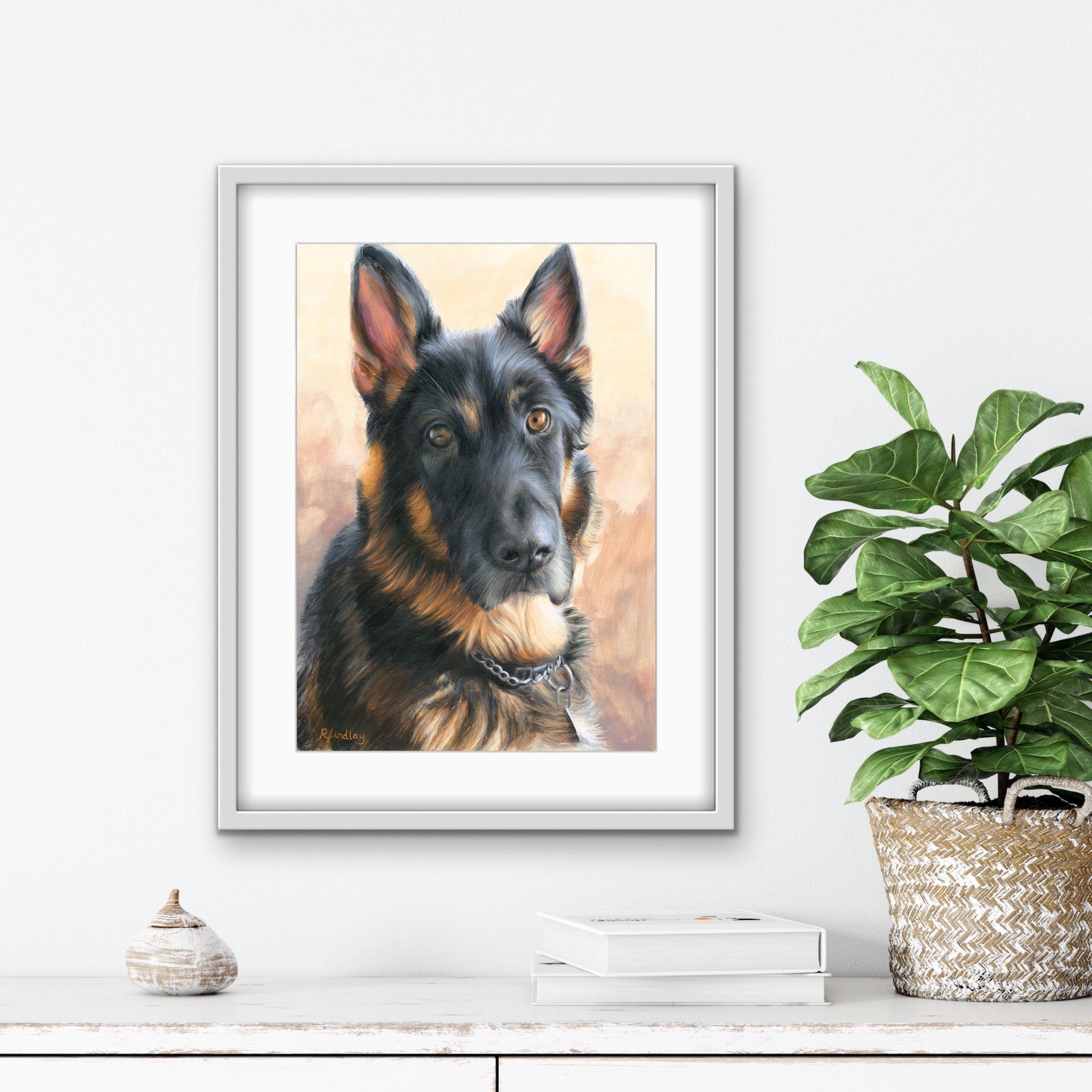 Turnaround Times
Depending on how many projects I am currently working on, turnaround times can vary, but typically you should allow for 4-8 weeks. Once you've sent over your details, I will keep you updated of progress. If you need your art by a certain date, please let me know in your message and I'll let you know if I can meet your deadline.
Payment & transaction fees
Payment is made easily and securely via Stripe or bank transfer. Once you're ready to pay, an invoice is sent to you with the link to make your payment.
You  pay a 50% deposit initially, with the remaining balance paid upon completion and your approval of the artwork- I will send you a high quality scan or photograph- prior to postage.
Please note that there is a small transaction charge on purchases made via Stripe. There are more details about this on the Stripe website https://stripe.com/gb/pricing
Postage & packaging
Completed work is sent via Royal Mail First Class post- tracked and signed. If you live locally free collection/ delivery can be arranged.  Please get in touch before booking for international postage rates and if I'm able to post to your country. 
All works are securely packaged using sturdy materials- either a cardboard tube or box – which contains padding so that your artwork arrives in perfect condition. Additionally, your artwork will come in an archival acid free sleeve and with Care and Thank you notes. You can see examples of the packaging used in the Commission Images above. I use recycled and recyclable packaging where possible.
Please read the Terms and Conditions before ordering your artwork, as these will explain in more detail what to expect from your purchase.
Art on a budget
I also offer a budget sketch option which is fantastic value. These sketches are made using artist quality materials but they are produced in a faster time, still capturing your pets likeness/ personality but enabling me to keep the price competitive. All portraits can be provided with an additional mount and are made to fit standard 8 x 12" frames. Perfect for gifting!
As with the larger commissions, it helps if you have a clear, well- lit photo of your pet for me to work from. Just a £5 deposit required to secure your portrait. Postage extra.
Price list:
To fit 8 x 12" frame
Head only £20 with mount £25

Full body £30 with mount £35


Larger sizes available upon request