Original Art to Buy
Original paintings gallery. This includes sold and archived works and available paintings. Individual details are beneath each work. Prices do not include shipping and unless stated otherwise do not include frame or hanging fixtures.  Please make sure that when purchasing work you have measured your space correctly as this will avoid disappointment. If you have any questions regarding individual works please contact us here at hello@rebeccafindlay.com . We will be happy to help.
Help the Rhinos
Until March 31st all original artwork (excluding commissions) and prints include a 10% donation to the uMkhuze Game Reserve via @ArtForRhinos.
For more information about the reserve: @savetherhinointernational  @ezemvelokznwildlife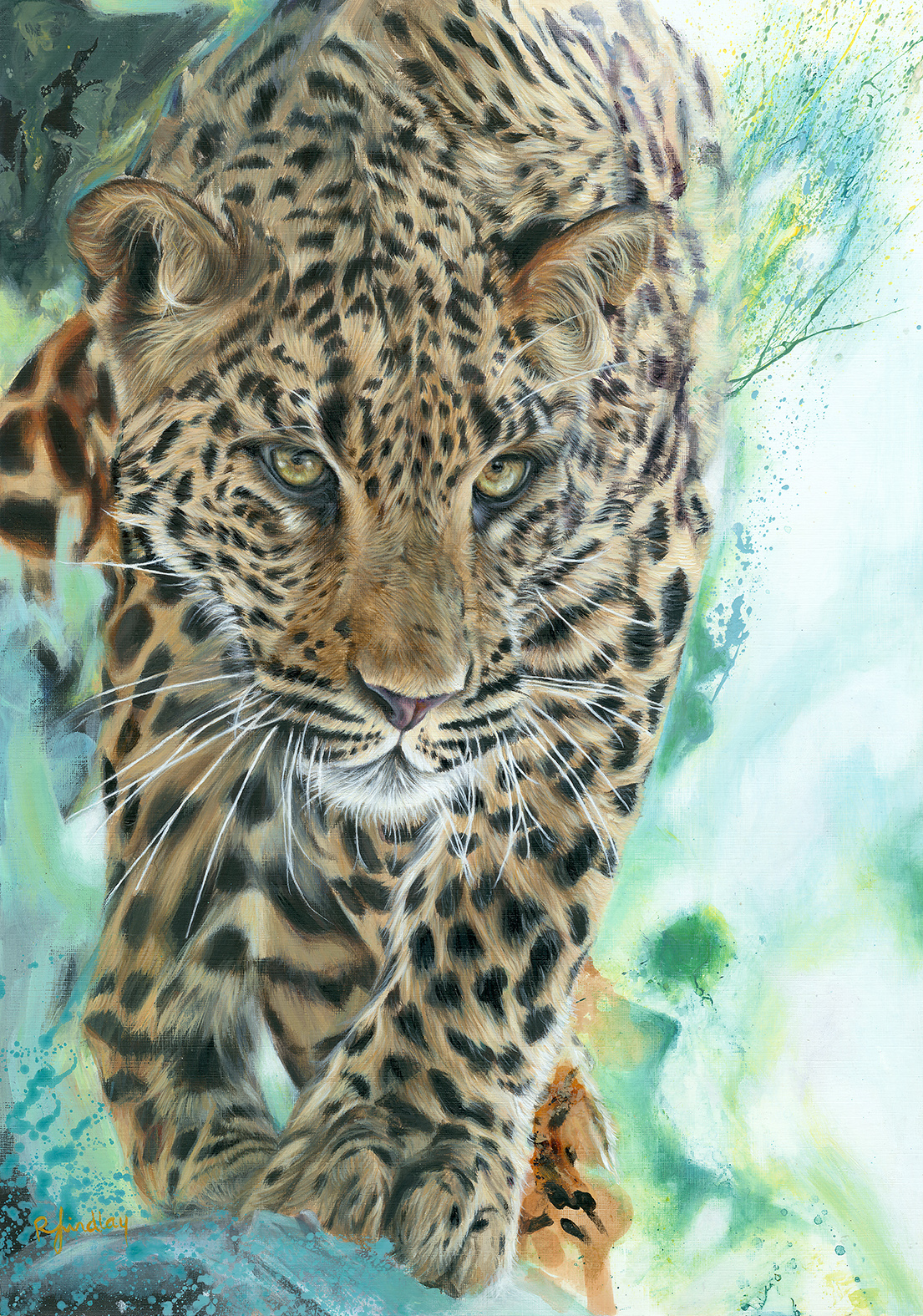 Intention , Acrylic & tea acrylic canvas paper. 11.7 x 16.5" . Ethereal Painting featuring a leopard inspired by original photography by @rtreferencephotos. 
£750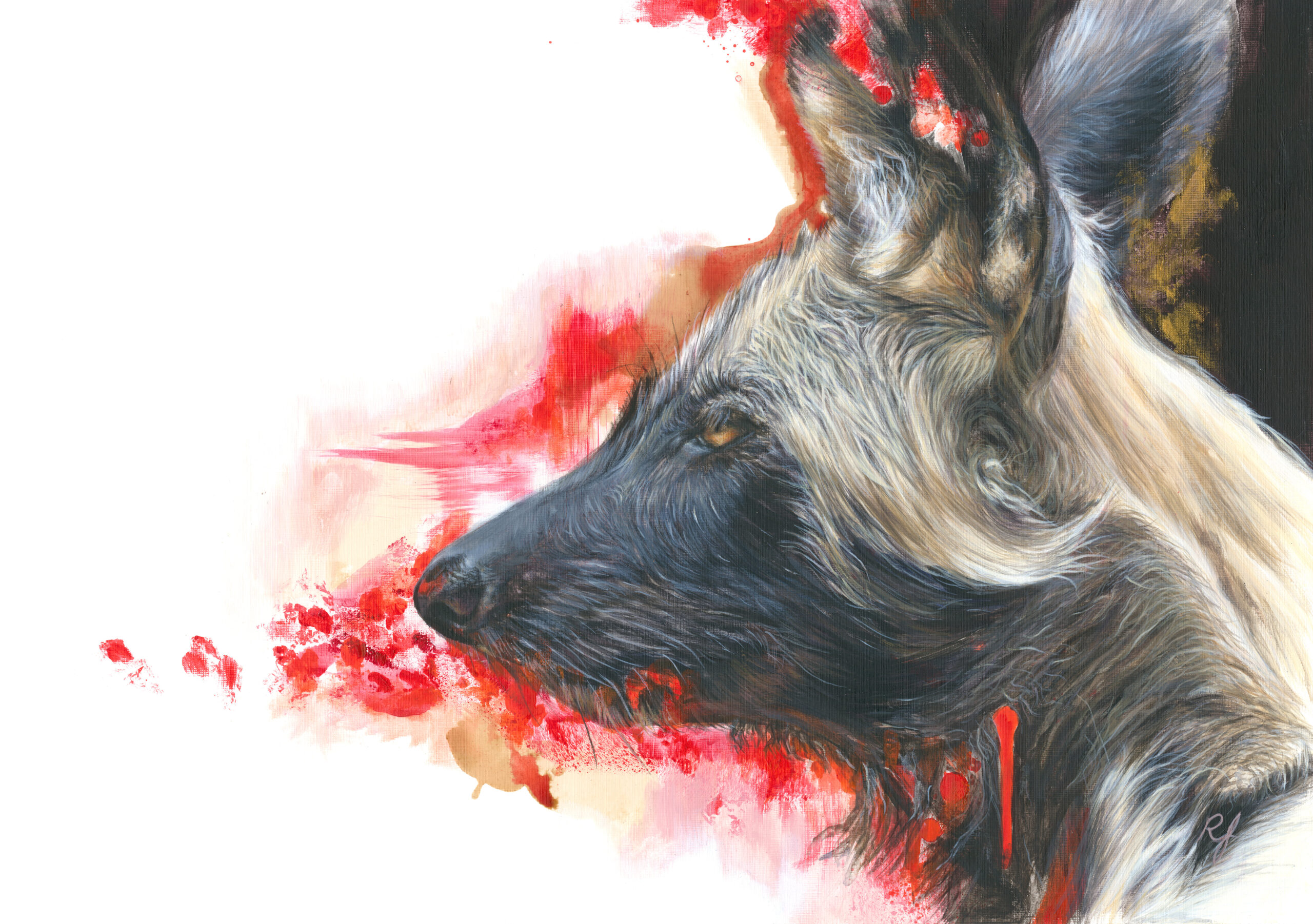 Underdog, Acrylic & tea on Canvas texture paper , 16.5 x 11.7"
This strong, impactful artwork was inspired by the African Painted Dog, with the red, more expressive marks being indicative of the amount of bloodshed that is happening leading to their endangered status. For example, with human traps, diseases, and road accidents, as people occupy the Painted Dog's habitat. As featured in Wild Heart Gallery's first Annual Animal Portraiture Online Exhibition- Best Wild Animal Portrait & Overall Runner Up
£750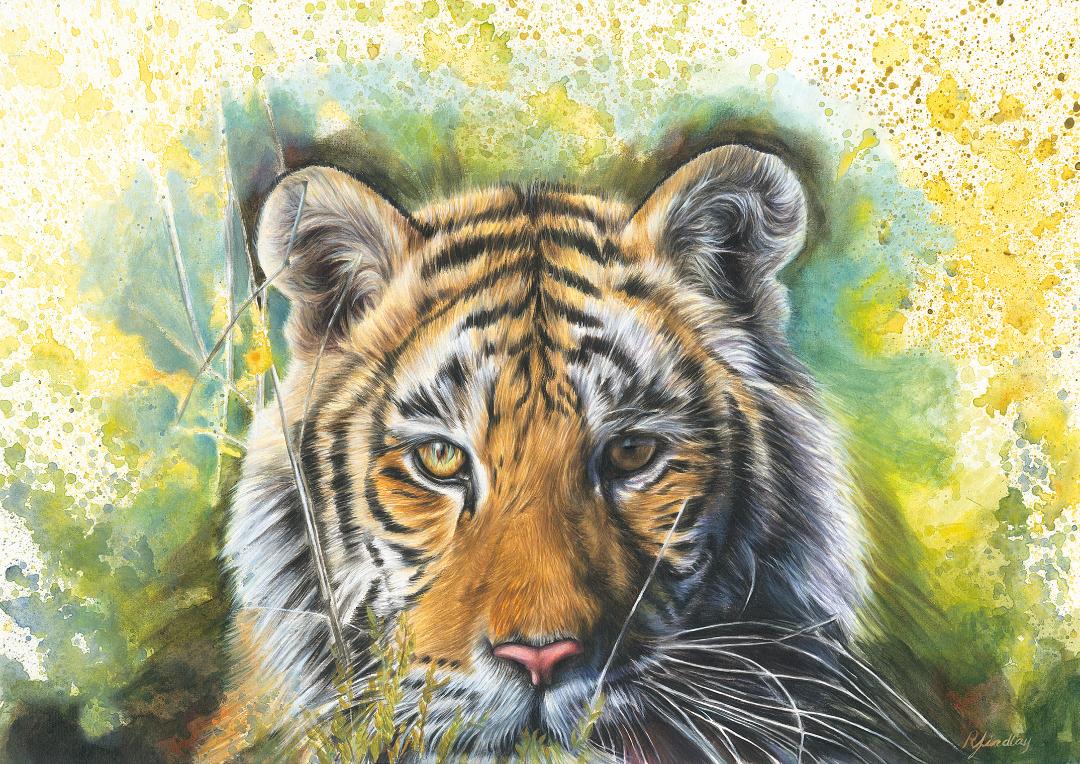 Vulnerability in Strength, Acrylic & watercolour pencil on Watercolour paper , 16.5 x 11.7"
This artwork was selected as a Sketch for Survival Wildlife 100 Finalist artwork and exhibited at Dundas Street Gallery, Edinburgh and OXO Gallery, Southbank London. It was auctioned in November to raise funds for Explorers Against Extinction projects.
SOLD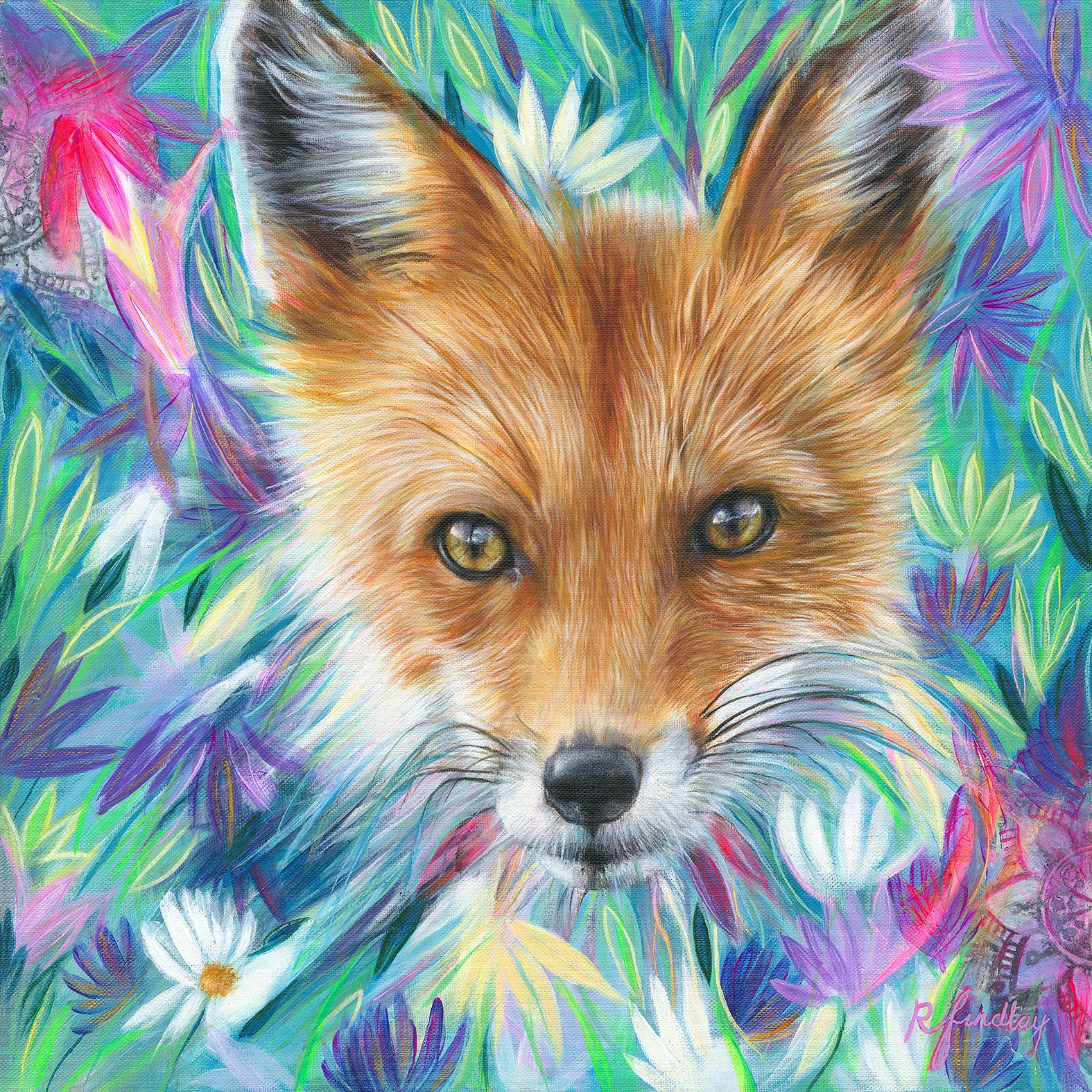 Summer Fox, 2022, Acrylic and mixed media on flat canvas panel, 40 x 40 cm
Inspired by the colours and feelings of Summer. This piece incorporates paper colllage elements and there is also use of gold paint which gives a magical 'sparkle' effect when it catches the light. On a personal level, this piece was created during a time of unbalance in the artist's life. The fox's gaze provides a focus point with the intention of steadying and absorbing the viewer.
SOLD (with art for rhinos donation)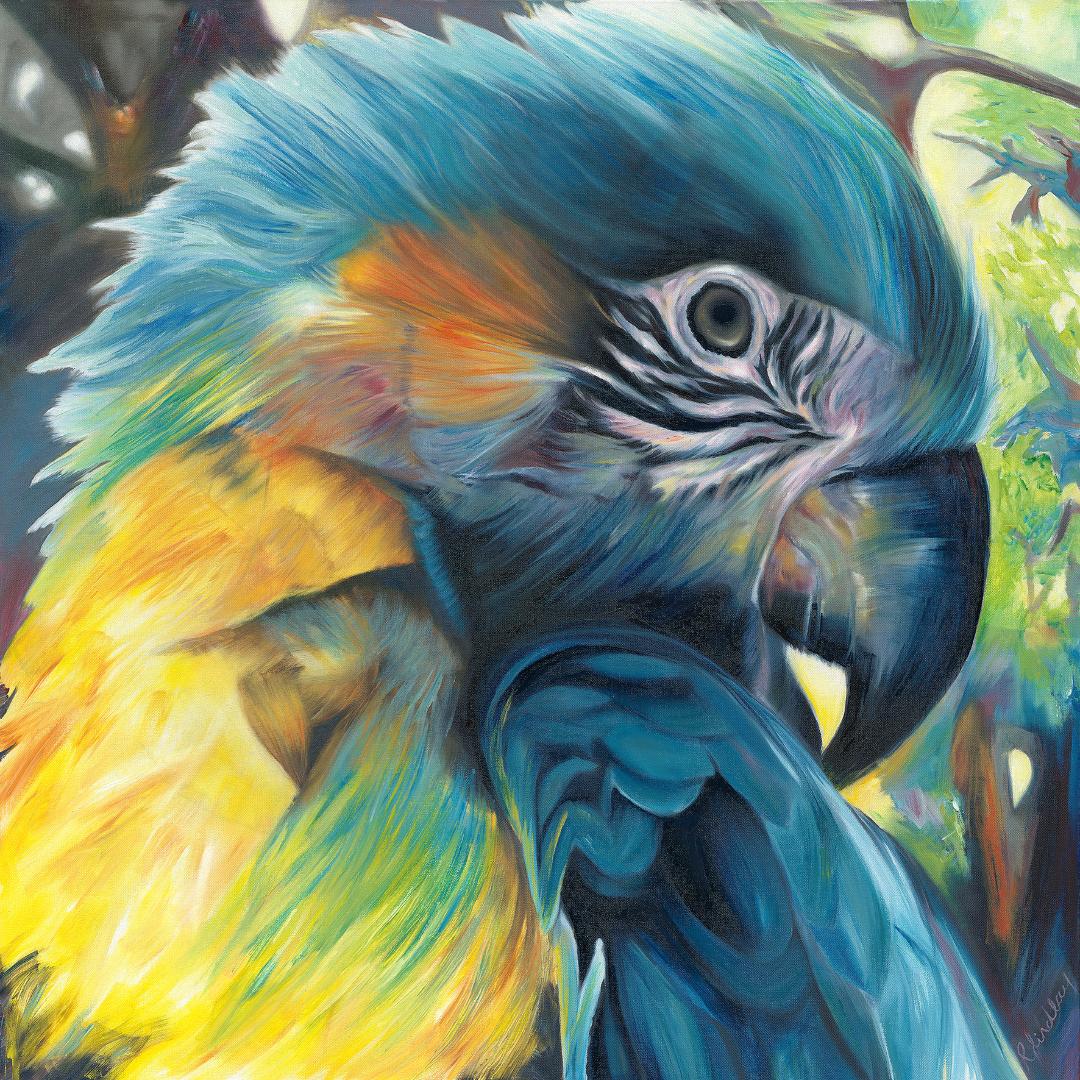 Another Beauty II, 2021, Oil & Acrylic on Hand Stretched  Box Canvas, 81.2 x 81.7 X 3.7 cm,  £1500

This piece was inspired by the colours of the beautiful blue throated Macaw which is an endangered species and hunted for its feathers in its native Bolivia.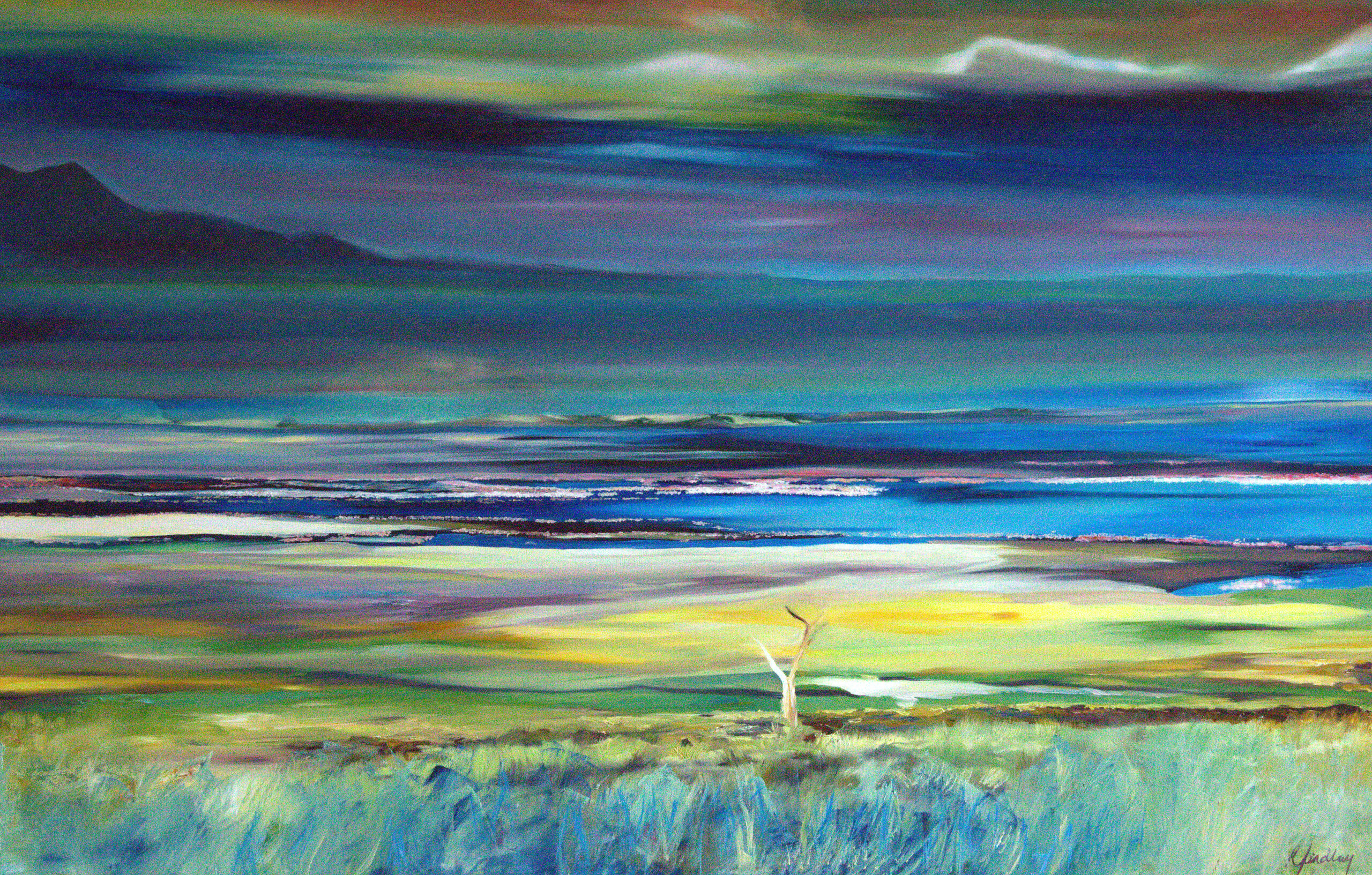 Flamingoes, 2014, Oil & Acrylic on Hand Stretched Box Canvas, 100x120cm, SOLD
Inspired by artist's own images of Lake Natron- a salt lake in the north Ngorongoro District of the Arusha Region in Tanzania.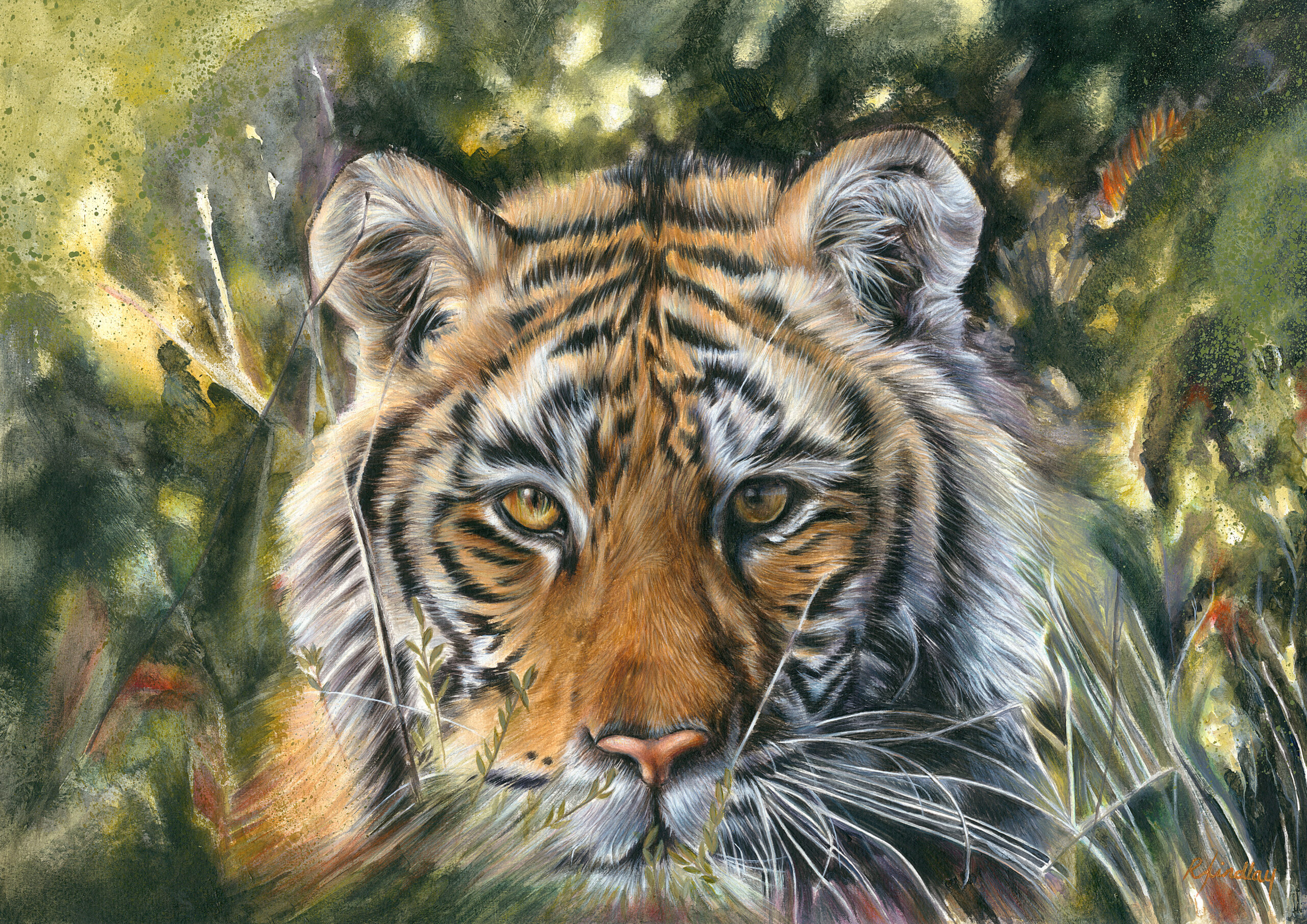 A New Strength, 2022, Acrylic & Watercolour Pencil on Watercolour Paper, 29.7 x 42 cm, SOLD 
The initial inspiration for this piece was the mix of vulnerability and strength in the tiger's gaze. So often we think of a tiger in terms of strength but they are of course endangered. This work has very special meaning for the artist as it was painting during a very personally challenging time. The painting became a symbol of determination. We can still be strong whilst possessing qualities that make us vulnerable.